As our New England winter continues to disappoint, I have come full-circle and am now psyched for spring,
and all the messiness that comes with it.  I have my seed catalogs out and dogeared, and I've been eyeing the bags of manure I failed to add to the garden last fall.  Because I can't  quite justify breaking out the seed pans quite yet, I figured I'd prepare myself mentally, by reading a book.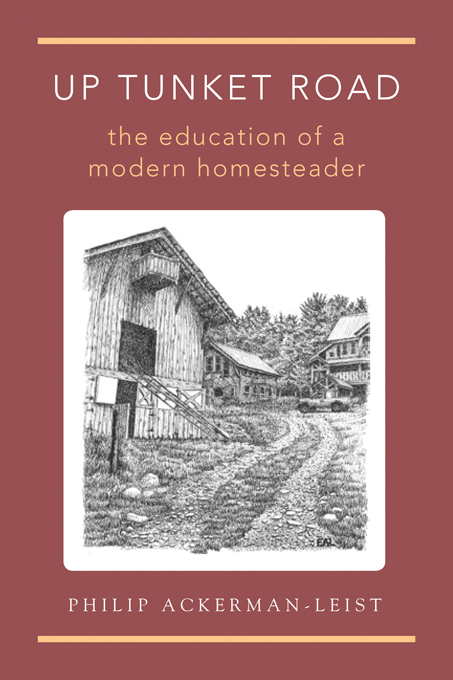 Oh, the far-fetched American dream  of  making one's way in the wilderness!  Of carving a living out of earth and building a life and a home out of wood and stone and under the sky!  But where is there room for such wild fantasies in the uber-civilized 21st century of fossil fuels and perfect lawns?
Up Tunket Road  is Philip Ackerman-Leist's ode to modern homesteading.  An Associate Professor of Environmental Studies and Director of the Farm and Food Project at Green Mountain College, Ackerman-Leist and his wife lived off the land in an honest-to-goodness homestead in VT for twelve years.  Up Tunket Road catalogs his personal experiences roughing it, and the anecdotes he relates early on have a James-Harriet quality to them that have successfully charmed this reader.
More importantly, however, Ackerman-Leist explores some of the more difficult questions about what it means to have the homesteader dream in today's plugged-in world.  Can you be a suburban homesteader?  How about an urban one?  What does it mean to simplify your life, take only what you need, and truly know those around you?  This is a path to deliberate living if there ever were one, so check it out.